DVDx Skin Designer

Version
0.2.0

Visitors since june 2004

Download
Last update: june19, 2005
A Skin Designer for the great DVDx 2.x.!
DVDx allows you to convert DVD to VCD2.0 , SCVD1.0 or AVI (DivX...) in one step (Including multiplexing, splitting). It produces good quality movies in AVI , MPEG1/2 format and you don't need to have 5GB or more free on your hard disk. DVDx has been designed especialy for inexperienced users, it is a simple and intuitive program (from the original "DVDx Guide")
How I can make the buttons for DVDx?

---
The images of DVDx
Note: All the images is refered to the 21stkin skin by bash.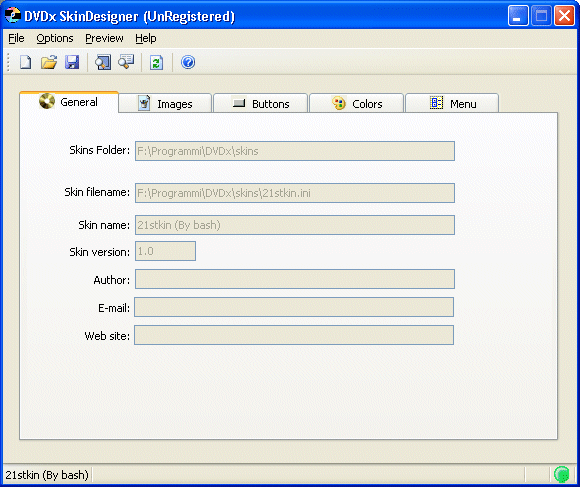 DVDx SKins Designer main window.

Set all Bitmap...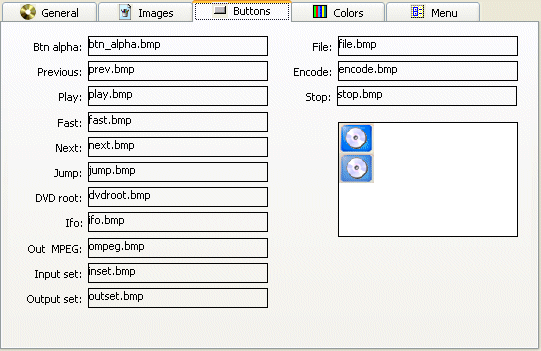 ... and Button images...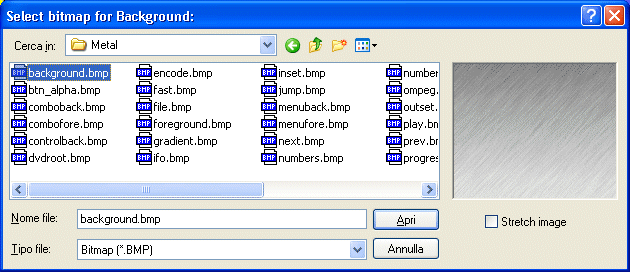 ...from a useful open dialog with image preview: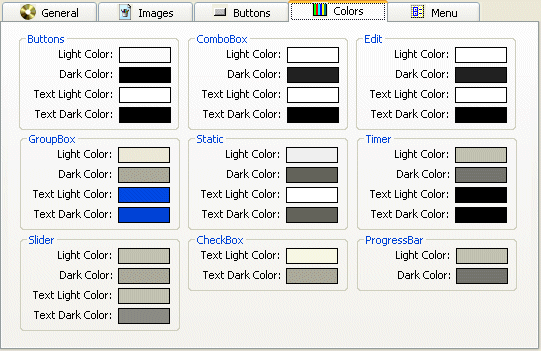 Colors: you can choose color from the standard Choose Color dialog box,
and/or to use Copy & Paste, as below

| | |
| --- | --- |
| | |
| Copy color... | ...and Paste |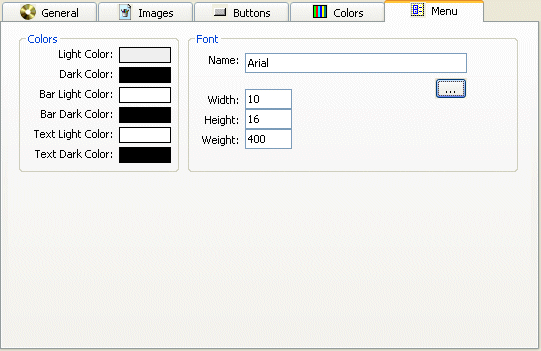 Menu colors and font setting.
---
SKIN PREVIEW
As you know, it's very tedious to see your skin changes in fact (without DVDx Skin Designer) you need:
1) modify your skin
2) to start the DVDx program
3) load your skin
4) restart DVDx to see your skin
5) close DVDx
... restart from step 1
With DVDx Skin Designer is a joke!
From Preview menu you can see the your skin preview 'on fly'.
See the preview window below (Click to enlarge)
| | |
| --- | --- |
| Main window | Input Settings dialog |
| | |
(1stkin by bash)

---
How I can make the buttons for DVDx?
With DVDx Skin Designer you can do much, but not all! DVDx Skin Designer isn't a graphic software, then you must provide for images.
To create texture background you may use MSPaint, but creating of buttons (3D, shadow, state up/down, etc.) it's a more difficulty.
To make your button you need a external program. You can use some program (searching 'button' with your search engine to internet). I don't recommend to use program like MSPaint (or similar) if you want make a good work. There is many of good software.
Here some good programs:
DeKnop (freeware)
cue by Maurizio Peroni
(maurizio.peroni(at)libero.it)
Very good!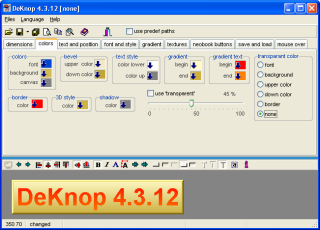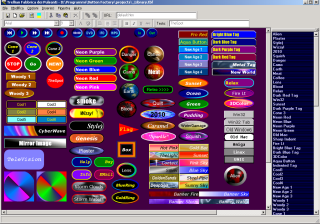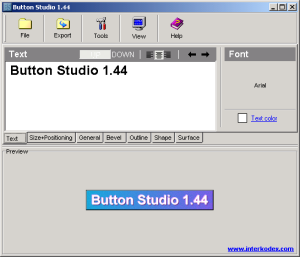 This tools It's very useful, and you can design 3D look, either up and dow state, and various shapes (as well as request by DVDx). For more info to make your skins read this good guide made by bash.

---
---

Version history
Note that <SD> mean SkinDesigner
0.2.0 december, 23 2003

IMPORTANT UPDATED

Please take note that this is a very important update that add many great features and, as the same time, fix some small bugs.
Thank to all users that has send me their suggestions and comments.
Thank to dragongodz for your help, appreciation and suggestions while the program test.
Thank to dragongodz to made DVDx

N E W ***
---------
Add a toolbar that provide access to common functions:
- New
- Open
- Save
- DVDX main preview (1)
- Input Settings preview (2)
- Update preview (3)
- Help
When you move the mouse pointer over a button, will be display a tooltip text for the button and a short description on the status bar.
Buttons (1) & (2) switch to Show/Hide the respectives windows.
Button (3) updated the windows (is any is displayed) to apply instantly the changes you made.
(For more info read the help file)

N E W ***
----------
Add a useful "Whats this?" features, to get a quick help for various objects.
By clicking the button on the toolbar, or for 'What this' menu help, the mouse pointer become a arrow+question pointer, next you perform a click over the object you want to get a short description of what does.

N E W ***
----------
Now you can display simultaneously either the 'DVDx Main' and 'Input dialog' preview windows!
As the same time you can see your changes as real time, instantly!
(Thank to dragongodz for this suggestion)

N E W
------
When open a skin file from recent-files, this list will be updated, and the last opened file will be put on top of the list.

N E W
------
The button on DVDx Preview will now draw exactly as DVDx, by using the bitmap mask (normally is 'btn_alpha.bmp') to make a better 'Up and Down' state when you click the button on DVDx main Preview

N E W
------
Add a color selection preview (tabs Images and Button) to get the current color under the mouse pointer when this is over the images preview.
When you perform a Click, the current color will copy to a special memory area and to status bar (right-side).

N E W
-----
Add new menu item on menu File [Rename skin...] that allow you rename a skin from disk only. Can't rename the current loaded skin.
N E W
------
If the bitmap used to fill background is too small, the PREVIEW may be not accurate (in fact some parts may be not draw, and its result empty).
Note that This is not a problem for DVDx, but for the Skin Designer preview only.
Now, if bitmap is small, the backgrounds will be draw on 'tiled' mode.
N E W
------
The MRU list is updated when exit program:
the existence of each file will be checked and if not exists more, will be deleted from the list.

CHANGE
--------
The 'messages' disaplyed on the status bar is now to left-side, and 'skin name' is displayed to the right-side.
FIX
The eye-dropper mouse-pointer is much more accurate, when over the image preview.
FIX
Now, When program start, all the tabs is disabled. On previously version, if user make any change without create a NEW skin an error was returned.
All the tabs will be enabled when open a existing skin or create a new one.

FIX
Once you have entered the User information (Author, e-mail, etc.) from Options menu, you don't be able to change this values.
Now, by clicking the menu item, will be ask each time if you want change this value.
FIX
If you don't have choose any mask image for the 'btn_alpha' button, When show a DVDx main window preview and click to a button, give a error (correctly).
Now you will receive a message that the 'down' state for the button isn't available, because the mask to draw the image isn't available.
---
0.1.6 - december 19, 2003
FIX
When a new skin is creating, a small bug force program to exit.
There is no problems, but is tedious restart the program, true?
---
0.1.5 - december 14, 2003
NEW
Add images to tabs, and tabs is more large

FIX
Register dialog now is on English language (not never italian!) and the registration procedure now is correct.

FIX
When move the mouse over a color box the MousePointer now change correctly to reflect the Copy or Past action/state.

FIX
When select a font for menu, the dialog ChooseFont open with the current selected font on FontType field (before nothing is selected). This dialog is now centered on main SD window.

FIX
The "\Skins" folder isn't never created.

BUG
Correct error that under Windows XP the program not start. However, on previous versions, if you delete the <DVDxSkinDesigner.exe.manifest> file, the program start (but some interface elements will not displayed on the Windows XP style.


Some small bug fixed.
---
0.1.2 - december 11, 2003
NEW
Don't need to set the DVDx\skins folder!
The first time you run the program, SD will search the default folder for skins, that is "DVDx\skins", if folder is found SD simply ask you to confirm.

NEW
Add a new Options menu command to delete all recents files (from menu and ini file)

NEW
The tab 'General' now show the filename of the current skin, not only the name of skin.

NEW
No need more enter the <name> for skin.
When you enter the <filename> for new skin this entry is used for <name> also.
Next, you can to modify this name as you want.

FIX
Now you can see a preview (any) even if not all images are set.

UPD
Update help file.

CHANGE
E-mail address is changed, now you can contact me here
(e-mail No-Spam): gibra <g.brausi (at) visual-basic.it>

FIX
The mouse pointer (eye-dropper and fill) will not reset to 'hand' pointer when leave out from labels color.
---
0.1.1 - august 21, 2003
NEW
You must choose the location of the \DVDx\Skins folder, from Options menu you select the "Select the DVDx skins folder..." menu item to set it.
Next, you can create/modify/load/save the skins here.
(suggestion by dragongodz)

NEW
Now you can close the Preview window by pressing Escape key.


NEW
- Skin <filename>
When you create a new skin, you must enter the <filename> for this.
Dont' add extension (.ini), SD does this automatically.
- skin <name>
Now, you must enter a <name> for the skin.

---
0.1.0 First release